The queerest royals
CULTURE: LUKE MARLOWE
The Monarchy has had a chequered past with the queer community over the years. Despite this there's been numerous rumoured gay and bisexual members. Q&C's Luke Marlowe opens the history books to take a look at some of the queerer royals from our nation's history.
Handsome, rebellious and a breath of fresh air in a Royal Family that's had a reputation for stuffiness and formal tradition, Prince Harry has always found a loyal fanbase in the gay community. With Harry and Meghan recently pledging themselves to ensure equal rights for LGBT people across the commonwealth, that loyalty may well be repaid.
Photo by: British Embassy Rome, Credit link
However, the British Monarchy has had a long and complicated relationship with the queer community over the years, so Queen and Country magazine decided it was time to blow the dust off the history books, and take a look at some of the queerer royals from our nation's history along with a guide to the castles and places from which they ruled.
William II
William II, or William Rufus as he's commonly known (perhaps because of his red hair as a child, or more likely, because of his ruddy complexion) ruled from 1087 to 1100. Difficult and tempramental, there is no solid evidence for William Rufus having been gay - but the fact he never married, nor fathered a child, despite the huge amounts of pressure that a King at the time would have faced, has led to suggestions he was homosexual. His general disdain for the Church and the clergy suggested that he was not abstaining from sex for religious reasons.
No accusations of homosexuality were discussed during William's reign but it was a rumour openly discussed after his death. Rufus came to an untimely and rather odd end, killed by an arrow whilst hunting in the New Forest. It's unclear whether the death was an accident or murder but there's no doubt that William's younger brother Henry wasted no time in grieving, rushing straight to Winchester where he claimed the treasury and announced himself as the new King.
One reminder of William Rufus's reign is the castle he had built at Carlisle, which still stands to this day. Originally built as a stronghold against the Scottish, it was in active military use until as late as 1962. It's now under the control of English Heritage today and well worth a visit to get a feel for medieval life, with other notable residents having included Mary, Queen of Scots, and Bonnie Prince Charlie. Find out more: http://www.english-heritage.org.uk/visit/places/carlisle-castle/
Edward II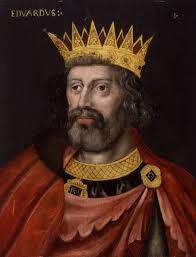 Edward I was a king renowned for his fair rule and improvements to the legal system. His son Edward II, on the other hand, is not remembered so fondly, ruling from 1307 to 1327 and was a weak and reluctant monarch. Edward's relationship with his court favourite Piers Gaveston played a crucial part in both Edward's life, and his eventual downfall. Gaveston and Edward II met when young, but the immediacy and strength of their bond was not accepted at Court with Edward's father banishing the young Gaveston.
Upon his ascension to the throne though, Edward II immediately brought him back, with Gaveston reveling in a power and closeness to the King that even the Queen lacked. Gaveston's abuse of that power led to dangerous tensions with the barons who helped run the country and resulted in Gaveston's capture and eventual execution.
Things didn't get much better for Edward II after that point, with military defeat in Scotland only adding to the King's unpopularity, leading him to make a major error in sending his wife, Queen Isabella, over to France in order to negotiate a peace treaty. Queen Isabella, likely fed up of years of ill treatment, chose to stay in France and took exiled noble Roger Mortimer as a lover. The two raised an army and sailed back to England, where Edward II was overthrown and imprisoned.
It was whilst in captivity that it's believed Edward II died, or possibly murdered. Legend has it that he was killed by a red hot poker up the backside, but it's likely that this was merely homophobic propaganda. The truth behind his death is ultimately a lost detail in the history of our country.
Elizabethan (and gay) playwright Christopher Marlowe wrote an electric, sympathetic play about the King which is still performed today, and was filmed by the visionary Derek Jarman in 1992. The film's contemporary setting allows the cast to explore links between the gay rIghts movement and a King who ruled nearly a thousand years before. It features an early performance from the always remarkable Tilda Swinton. It's recommended viewing, giving a picture of the King's life, as is a visit to Berkeley Castle where the King was held captive. Based in the heart of rural Gloucestershire, it's open to the public until late October every year, and grants remarkable insights into castle life throughout the centuries: http://www.berkeley-castle.com/
Richard I
Richard I is remembered as the Lionheart, a warrior and fighter who, despite many thinking of him as one of our greatest rulers, spent little time in England and perhaps as little as six months over the course of a ten year rule. However, we know that he was a man of few words (his nickname was "Yes and No" due to his short, sharp responses), and that he was good looking, with a contemporary source stating: "He was tall, of elegant build; the colour of his hair was between red and gold; his limbs were supple and straight. He had long arms suited to wielding a sword. His long legs matched the rest of his body."
So, the strong and silent type by the sounds of it. Rumours of Richard's homosexuality stem from his close relationship with Phillip II of France. According to Roger de Hoveden, the two "ate every day at the same table and from the same dish, and at night their beds do not separate them. And the King of France loved him as his own soul; and they loved each so much that the King of England was absolutely astonished at the passionate love between them, and marveled at it."
In a time before central heating, sharing a bed was a fairly standard thing for people back then, regardless of romantic inclinations, but such description certainly hints at a fairly strong passion between the two. Whether this was just propaganda for political purposes (this being a rather overt way of announcing that Richard and Phillip were allies), or evidence of a real loving relationship, we'll never know. Ultimately they didn't last though, with the two spending around five years engaged in bloody wars with each other, only ended by Richard's death due to a gangrenous wound.
Over the years Richard the Lionheart has come to be associated with the legend of Robin Hood. Whilst we don't know if he ever visited Sherwood Forest, the Robin Hood Way walk is a great way of getting to know the lands that such legends are set in, a beautiful walk through forests that can almost feel like a portal back to medieval times when outlaws were roaming the forests and the King was, apparently, a little bit gay. And, like all good walks, it's one that ends with a large slice of cake: https://www.nationaltrust.org.uk/clumber-park/trails/the-robin-hood-way
Richard II
Unlike the previous King Richard, Richard II did manage to marry, first to Anne of Bohemia, and then to Isabella of Valois. Rumours of his homosexuality come from a few different places, and the majority seem to be rumour based in homophobia and stereotype. Richard II loathed fighting, loved fine objects, and was often seen waving a handkerchief around.
Looking beyond that, the references to him being homosexual are relatively few and far between, and only seem to have arisen following the death of the King. Thomas Walsingham, a writer contemporary to Richard II suggested that the King may have been in a relationship with courtier Robert de Vere, but it's likely that this was a rumour spread by those who disliked de Vere's popularity in the court.
Gay or not, Richard's story ends unhappily, overthrown and locked up, his matter of death is still unknown. This occured in Pontefract Castle which, whilst destroyed during the Civil War, is a hugely atmospheric place to visit, located in the centre of the West Yorkshire town from which it takes its name. The dungeon tours will leave you haunted with their dark insights into those chained up and forgotten, but following that with a visit to the Liquorice Cafe should perk you up sufficiently: https://www.pontefractcastle.co.uk/default.aspx
James VI and I
James is a fascinating character, the first joint King of England, Scotland and Ireland together, son of the murdered Mary, Queen of Scots, and survivor of the infamous Gunpowder Plot. James was married with several children - and, a prolific author, once issued a rather scathing attack on sodomy in his book "Basilikon Duron". However, the King's love for men is undeniable, with a number catching his eye over the years. The first, Esme Stewart, was an older man, 37 when he first met the 13-year-old King.
The letters between the two certainly reveal huge amounts of tenderness, but their love wasn't to last, with Scottish Nobles fearing (perhaps correctly) that the young ruler was being led astray, banishing Esme to France, where he died shortly afterwards. Rather romantically though (or gross, depending on your point of view), the young King was left Esme's embalmed heart.
Next came Robert Carr, perhaps a bit of a rebound for the King, as Carr was known for being stunningly beautiful, but also utterly stupid. Things took a dark turn when Carr married, with his best friend Thomas Overbury strongly opposing the marriage. Overbury was found murdered, with Carr and his wife the chief suspects. The subsequent trial could have revealed the King's sexuality to the public, as Carr decided to blackmail the King, hoping for a reprieve in exchange for not revealing the intimate facts he knew about James.
However, James didn't back down and instead posted guards to stand next to Carr during his testimony, with cloaks at the ready to muffle the accused should he reveal any intimate details about the King. Carr's wife pleaded guilty to the crime, and whilst Carr maintained his innocence, the two were found guilty and sentenced to death. The King clearly had some influence over their eventual fate though, as the two were jailed for just seven years, before they were granted a pardon and an early retirement to a country estate.
James' last relationship was certainly the happiest - with the handsome George Villiers, Duke of Buckingham. James was so in love that he was remarkably open about his feelings for Villiers, and their relationship was a talking point in the court. In fact, French poet Theophile de Viau wrote a poem at the time which ends with the words: "And it is well known that the King of England/fucks the Duke of Buckingham". Not the catchiest of poems, but you get the point. Overall It seems that the King's relationship was a positive one, with Villiers becoming close friends with James's wife, and letters showing that the King and Villiers referred to themselves as a married couple. Villiers was even at the King's bedside as he died, so a slightly happier ending compared to James's previous men.
The late King was born in Edinburgh Castle, one of the few castles that still stands as impressively as it did 500 years ago. Here you can visit the room of the King's birth, where, according to legend, a servant of Mary Queen of Scots tried using witchcraft to remove the birth pains and pass them onto someone else. Elsewhere in the castle, you can view the Scottish Crown Jewels, watch the one o'clock gun be fired, and see the sun set over a beautiful and historic city: https://www.edinburghcastle.scot/
Queen Anne
Anne is a rather forgotten Queen of the United Kingdom, and remains in the shadow of more powerful rulers such as Elizabeth I (no stranger to gay rumours herself) and Victoria. However, she was a strong and fascinating woman, overcoming the tragedy of losing multiple children in infancy to become a popular ruler and important patron of the arts.
Whilst lesbianism as a concept was not something that was familiar to people at the time, Anne's close relationships with women were public knowledge, and her relationship with Sarah Churchill, the Duchess of Marlborough, the longest lasting. Letters between the two showed that they had pet names for each other, with Churchill known as 'Mrs Freeman', and Anne, 'Mrs Morley'.
The relationship between the two extended over 25 years, and was hugely passionate, with letters between the two reflecting that in great depth. But that passion and volatility led to arguments, eventually leading to relations between the two women falling apart completely, with Churchill being replaced by Abigail Masham.
Churchill was livid and took her revenge by writing a tell-all autobiography that portrayed Anne as a vain, useless ruler who took advantage of her power in order to bed female courtiers. It changed public opinion against the Queen, and is a depiction that has held fast over the centuries, despite being largely untrue.
There's no doubt that Anne loved the women in her life passionately but we'll never know if these relationships truly extended into romance or not. Whilst time has not been kind to Queen Anne, it has been kind to Hampton Court Palace, where Anne lived for parts of her rule, and redecorated the Royal rooms.
It remains a remarkable destination for a day out where both the beautiful grounds and the centuries old buildings transport visitors to the past on a daily basis. Get lost in the maze, experience the thrill of a joust, and converse with put-upon chefs in the medieval kitchens: https://www.hrp.org.uk/hampton-court-palace/explore/#gs.Z9CQDDA
Lord Ivar Mountbatten
Bringing things up to date, Ivar Mountbatten is the first out member of the Royal Family. A direct descendant of Queen Victoria and third cousin once removed from the Queen, Mountbatten was married to Penelope Thompson from 1994 to 2011. However, in 2016 Mountbatten revealed that he was in a relationship with James Coyle, an airline director with whom Mountbatten met whilst skiing.
Mountbatten has been very clear that denying his sexuality had not been due to being part of the Royal Family, but because of the generation he'd been born into. While he has openly admitted to struggles with his sexuality, Coyle and Mountbatten seem to have an extremely close relationship, helping to bring up Mountbatten's three children, maintaining a close friendship with Mountbatten's former wife Penny, and bringing the Royal Family happily into the twenty-first century.