Culture corner
CULTURE: DARRYL W BULLOCK
From stage to screen and all sorts in between, Q&C's cultural connoisseur Darryl W Bullock brings us some of the best events and entertainment for the early summer and beyond.
It's such a relief to see the sun! After a miserable winter, and a ridiculously snowy spring, let's celebrate the impending start of summer, with a visit to the RHS Chelsea Flower Show (22 – 26 May), some open air opera, via the Glyndebourne Festival (19 May – 26 August) or a trip to Hay-on-Wye for the annual literature festival (24 May – 3 June). Sadly I have not been invited to the latter, although I will be plugging my own books at the Bristol Festival of Literature in October and at Louder than Words, in Manchester, in November. More on those to come.
If you can't get tickets for Chelsea, why not take a trip out to the wonderful National Trust-managed garden at Stourhead, where the rhododendrons are blooming and the grounds are alive with colour from their distinctive flowers. The garden is home to over 100 different varieties of rhododendron including a few specimens that have been around since the 1800s, and were first introduced to the garden by Sir Richard Colt Hoare. "We have just reinstated 100 more rhododendron plants into areas of the garden, including along Sand Walk," says Assistant Head Gardener Mark Case. The display is complemented by the other flowers in the garden, including azaleas and magnolias.
The garden at Stourhead is open every day, except Christmas Day. For more details please visit www.nationaltrust.org.uk/stourhead
Photo credit: Display of rhododendron alongside the Temple of Apollo at Stourhead © National Trust Images/Clive Nichols)
Coming next month to an arthouse cinema near you, but already doing the rounds on the film festival circuit, Anchor and Hope is a bittersweet drama starring Game of Thrones favourites Oona Chaplin and Natalia Tena. They play a boho lesbian couple Eva and Kat, in their mid-30s and living a simple, carefree life on their London canal boat. Their world is turned upside down when Eva presents Kat with an ultimatum: she wants a child. Kat is reluctant, but when her best friend Roger drops in from Barcelona, the three of them toy around with the idea of creating a baby together.
In real life Natalia Tena lives on a house boat in London, and it was this that inspired director Carlos Marques-Marcet to set the movie on the water. The role of the canal is central to the movie, providing a home, a passage from one place to another, a symbol of freedom and of separation, and contrasts with the intensity of 'dry land' London. A metaphor for the need for us to be careful when we navigate our way through life, perhaps?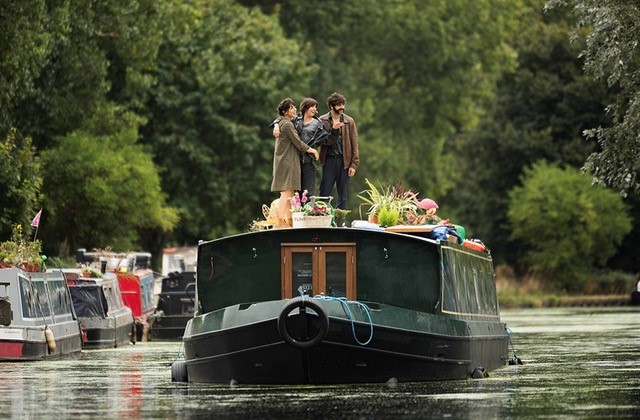 The Tate St Ives most recent exhibition, featuring work inspired by the writing of Virginia Woolf, is going on tour. Virginia Woolf spent much of her childhood in St Ives, where her family had a summer home, but now she's off on her travels around the country.
Woolf's writing acts as a prism through which to explore feminist perspectives on landscape, domesticity and identity in modern and contemporary art. The spirit of the author of classic works including 'To the Lighthouse' and pioneering feminist essay 'A Room of One's Own' acts as the hub of a collection of work by over 80 artists, including Laura Knight, Gwen John, Vanessa Bell, Winifred Nicholson, Sandra Blow, Barbara Hepworth, Claude Cahun and Dora Carrington.
The exhibition tours to Pallant House Gallery, Chichester, 26 May – 16 September and The Fitzwilliam Museum, Cambridge, 2 October – 9 December 2018.
Iceland-based US singer-songwriter John Grant is on tour this autumn promoting his forthcoming solo album. I already have my tickets for his show at the Forum in Bath (October 31) but he's also playing Bangor, Birmingham, Brighton, Dublin, Edinburgh, London, Manchester and Sheffield. Hurry and reserve your seat now at: http://johngrantmusic.com/tour-dates-2/
In the same vein as Grant, American singer-songwriter and former front-woman of cult band 10,000 Maniacs, Natalie Merchant is back on the road for a unique tour of the UK featuring towns and cities chosen by Natalie herself and not usually included on her tours, or any music tour for that matter.
"I have always enjoyed performing in the UK but have rarely played outside of the major cities," she has said. "There's so much of Britain I've never seen; I expect this summer's tour will satisfy my desire to explore those historic and scenic regions while meeting up with my fans who live there."
Many dates are already sold out, but some tickets are still available for St. Ives (no doubt she'll pop along to the Tate while she's in town), Ilkley, Buxton, Brighton and Gateshead. It's worth checking with venues for the other dates (which include Hebden Bridge, Cambridge and Oxford) for any returns or late availability.
http://www.nataliemerchant.com/shows/
The Band, the Take That musical, is also out on tour, and is staying on the road until at least next March. Visiting towns and cities including Plymouth (Theatre Royal, 15 – 26 May), Edinburgh (Playhouse, 10 – 14 July), Southend (Cliffs Pavilion, 18 – 29 September) as well as Aberdeen, Sheffield, Oxford, Dublin, Belfast, Swansea and many more places too numerous to mention.
For five 16 year-old friends in 1992, 'the band' is everything. And 25 years on, we are reunited with the group of friends, now 40-something women, as they try once more to fulfil their dream of meeting their heroes. The musical stars Rachel Lumberg as Rachel, Alison Fitzjohn as Claire, Emily Joyce as Heather, and Jayne McKenna as Zoe, as well as AJ Bentley, Nick Carsberg, Curtis T Johns, Yazdan Qafouri and Sario Solomon, winners of BBC's Let It Shine, as The Band, and is co-produced by Gary, Howard, Mark and Robbie (ou vas-tu, Jason?).
As we gear up for Pride season, several of the country's big events have fundraisers taking place soon. Of special note is the Black Tie Ball at the Crowne Plaza in Newcastle on 27 June. Guests are invited to join the Newcastle Pride team for a three-course meal and an evening of entertainment, including a disco, a raffle with some fantastic prizes, and live entertainment from the Storm Function Band.
The popular fundraiser raises money for LGBT charity Northern Pride - which organises Newcastle Pride - with money raised going towards keeping the annual festival free for future years. "The Black Tie Ball is always a popular event and we have a brilliant act lined up this year," says Stephen Willis, festival director of Newcastle Pride. "Newcastle Pride is one of the largest, free festivals of its kind in the country and events like this are essential in order to sustain that for the future." Newcastle Pride takes place over the weekend of the 20–22 July, with headliners Alexandra Burke and S Club, and more acts still to be announced.
To celebrate its fifth anniversary, The London Cabaret Club, at The Bloomsbury Ballroom, launches its new show. The Queen of Roses is an immersive cabaret experience, featuring an evening of majestic live performances, exquisite dining and quintessentially British cocktails. Taking place every Friday and Saturday, and running from now until the end of July, the show will take you on a sensational tour of British heritage, celebrating Queen Elizabeth I, Queen Victoria and Queen Elizabeth II with dazzling cabaret performances and decadent gastronomy inspired by key moments from each of their reigns.
The Ballroom's Long Bar has been transformed into a magical Royal Rose Garden where guests will be able to indulge in a menu of bespoke British cocktails, including the smoking 'Earl Grey 'Tea-ni'' and the rose-infused 'Queen or Roses' gin cocktail. Illusionists, singers, magicians and living garden statues will transport guests into the majestic splendour of the Royal Court before guests are seated in the iconic Ballroom, where the show will take place.
A fully immersive experience, as Queen Elizabeth I takes to the stage in fabulous bespoke costume, characters from Shakespeare's Romeo & Juliet will join guests, and will perform the famous balcony scene, before an enchanting Victorian waltz welcomes guests to the Victorian era, celebrating the diverse culture of the four nations of the British Isles.
Later, performers will twist, turn, swing and jive as they bring to life the moment the streets of Britain erupted into dance to celebrate the end of WWII. Highlights from Queen Elizabeth II's reign will be reimagined, including the iconic Bolero ice skating routine which saw Torvill and Dean crowned Olympic champions.
While enjoying the show, diners can indulge in The London Cabaret Club's seasonal British cuisine. The menu is fit for a queen, with starters in keeping with the theme of the show and featuring a selection of classic British mains, as well as a decadent variety of Victorian puddings. It's well worth a visit to London and promises to be one extraordinary experience, with tickets starting from £55.