Tales from the Cottage
HOME AND GARDEN: BEN HAMILTON ANDERSON
Instagram sensations Ben Hamilton Anderson and husband Mark share a passion for country living. They live in the extraordinary Dynamite Cottage in deepest Dorset. In his first column for Q&C, Ben reflects on what's in store for the year ahead, and all about their life in the fabulously named village of Puddletown.
Ben Hamilton Anderson and husband Mark moved into the aptly-named Dynamite Cottage in Puddletown, Dorset, three years ago. They live with Ethel the Labradoodle as well as numerous geese, ducks and chickens, and share their enviable lifestyle and wonderful photographs of themselves in their beautiful home with their thousands of followers on social media. Ben jumped at the chance of showcasing his love of the countryside and his plans for 2018 at the cottage with Queen and Country magazine in his first column.
With the tick of the clock another year rolls by and another one comes along. Christmas is all packed away once more, photographed, and notes made for next years schemes - yes we really are that organised. We've already decided on themes for wrapping and cake decorations and bandied ideas around for 2018's Christmas card.
People often message us and comment that we make life and, well, Christmas look so effortless and flash. But it really isn't. Like a graceful swan, it might look elegant and calm above water but under the surface we are paddling away like mad. We love planning and organising everything efficiently to ensure we present things in the best way possible for our guests, and just have fun with it.
Like most peoples homes after the festive period, the cottage feels huge and empty now that the shrivelled tree is gone and all the opulence of the Christmas decorations are packed away. The layout of our home briefly returns to its former glory, but since moving to Dynamite Cottage three years ago we have gotten into the habit of changing our decor and schemes almost yearly.
I confess we may have gotten a little carried away, and the cottage has become like a film set which is interchangeable throughout the seasons. It started like most things do, on a small scale; a pot of spring bulbs here, a floral vase filled with seasonal flowers cut fresh from the garden there. Now it involves Mark moving and redisplaying most of the house, even buying up whole carts of pumpkins come the autumn.
Up until the flowers of Spring emerge I'll be bringing into the cottage the hyacinths and paperwhite daffodils that I planted in pots back in October in order to dress the table and make it feel like spring's arrived even if it's a little early, what with it being still so dark outside.
It's a relatively quite time of year at Dynamite Cottage during these dark winter months. We spend nights hunkered down by the wood burner listening to the bitter north-westerly winds howling across the moor and holding our breath that our old grade II listed roof will still be attached in the morning.
It is however a great time of year for plotting and as my husband calls it, garden scheming. I make lots of notes of things to get on with for when the weather permits. For instance, which borders I will focus on to plant my collection of David Austin roses, or what perennials need to be lifted and split. Like a proper geek I'll spend hours sifting through the thousands of photos I've taken of the garden, usually at dawn or dusk when the light is at its best, vacillating over whether any of the haphazard colour combinations in the garden need to be changed or shuffled around.
I'm a terribly undisciplined gardener at home and I remove all the labels from all the plants I buy and as a result some plants really do end up in the wrong place. As soon as the weather improves I'll be out there with my spade and dividing what I can and shuffling it all about. You should never be afraid of doing this. In my 22 years gardening I've killed very few plants and in my experience most forgive you your mistakes or misplacements. Especially if you talk to them nicely, and offer them a drink.
Our garden will open to the public for the second time in 2018 and play host to not only the green-fingered enthusiasts of the local area, but the analytical eyes of a local WI group in June. So that'll keep me busy until then, not to mention working on the small paddock behind the house. I'd like to say this was needed for the extra grass for our grazing geese. But secretly I wanted another place to put more roses and get a better view of the magnificent sunsets behind the house.
If the coming months get too cold, or the river comes up and claims the garden as is its wont when living on its unpredictable banks, I'll look for alternative ways to spend my time. I might start painting things around the cottage. Almost a decade spent living in rented houses and magnolia-painted flats has made us very imaginative in finding ways to inject colour without touching a paint brush.
We also share a love for just creating new things and are partial to a bit of upcycling. We're alchemists in that we can turn random reclaimed pieces from skip surfing and old junk shops into gold. We've given a new lease of life to many an old piece of furniture. Up next for an overhaul are the two huge pine dressers in the lounge.
Our small flock of Sebastopol geese have been running together for nearly two years. It will soon be time to see some goslings. Out of our two ganders I've selected Bramwell as the lucky baby daddy. This means for a short time Walter our other gander will have to be separated from our four girls. If he had his own way he would be in the bed with us anyway. I'm very much looking forward to the pitter patter of tiny goose feet and lots of fluffy yellow little butts to Instagram in the spring.
This year I've resolved to get myself into the best shape I can. My weight has yo-yoed over the years and maintaining a steady and healthy weight has always seemed impossible. Last year I made better dietary choices and gave up meat products for environmental reasons for four or five days a week. This brought my weight down by 44lb. I want to go on to shed another ten or so but also want to retrain myself into maintaining weight loss long-term. I don't like sports as such and struggle with high impact cardio but I have bought myself a trampoline to bounce on like a big kid. It's fun and makes me smile. Fingers crossed I'll stick with it and the weight will drop off. So if any of you are in the vicinity and hear the cottage squeaking, you'll know what I'm up to. Happy New Year everyone!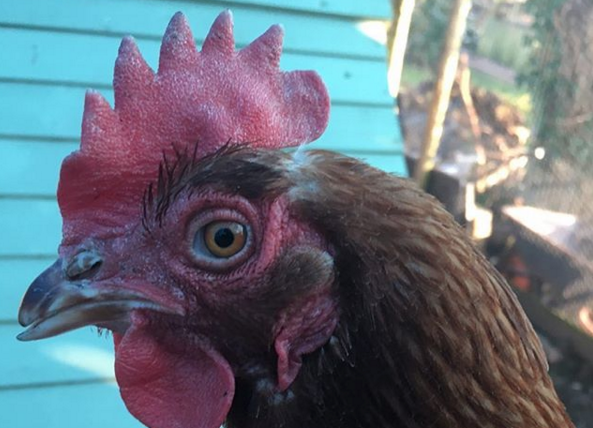 Stay tuned for more fascinating reflections and stories from Dynamite Cottage. In the meantime, you can follow Ben and his husband Mark - and Ethel the Labradoodle - on Instagram:
@dynamitecottagegarden, @dynamite_cottage, @ethelthelabradoodle